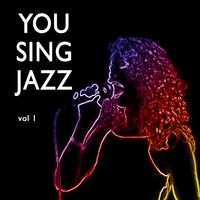 Sing-a-long/Play-a-long jazz tracks 
NOW AVAILABLE FOR FREE ON YOUTUBE!
SEE BELOW FOR TRACK TITLES AND KEYS
OR You can also order online through:
www.iTunes.com, or www.CDBaby.com
You Sing Jazz combines the best of professional and educational aides to practicing and performing by offering the chord changes for seven standard songs in six different keys! Produced by professional jazz artists these tracks provide everything a vocalist (or instrumentalist) will need to build skills in not only singing songs but also improvisation and knowledge of song structure.
All songs are arranged in a typical setting with intros, endings and room to solo and recorded with a live, professional rhythm section of piano, bass and drums.
Songs are prepared with only chord changes so singers can really have an opportunity to develop a solid foundation with each song and apply to other jazz songs. Each song was chosen to give singers a wide range of jazz styles from ballads, swing, jazz waltz, Latin feel, and a combination of styles. The songs can be purchased as a 2 CD set download or choose just the key that is right for your voice and buy one song.
These tracks are perfect for educators, jazz combo and band leaders, schools with jazz programs and professionals who need a rhythm section to keep in practice.
Chord Change Tracks And Keys Available:
*PLEASE NOTE: DUE TO ERROR ON YOUTUBE DESCRIPTION THE FOLLOWING KEYS FOR TRACKS ARE AS FOLLOWS
Autumn Leaves-
Keys of Em is Abmin,  Fm is Bbmin, Dm, is Cmin,  Cm is Dmin, Bbm is Emin, Abm is Fmin 
For All We Know- Keys of A, Ab, Bb, C, D, Eb  
Green Dolphin Street-Keys of A, Ab, Bb, C, F, G
I Got Rhythm-Keys of Ab, Bb, C, D, F, G
Hello Young Lovers- Keys of Ab, Bb, C, Db,F, G
My Romance- Keys of Ab, Bb, C, Eb, F, Gb
Triste- Keys of A, Ab, Bb, C, F, G