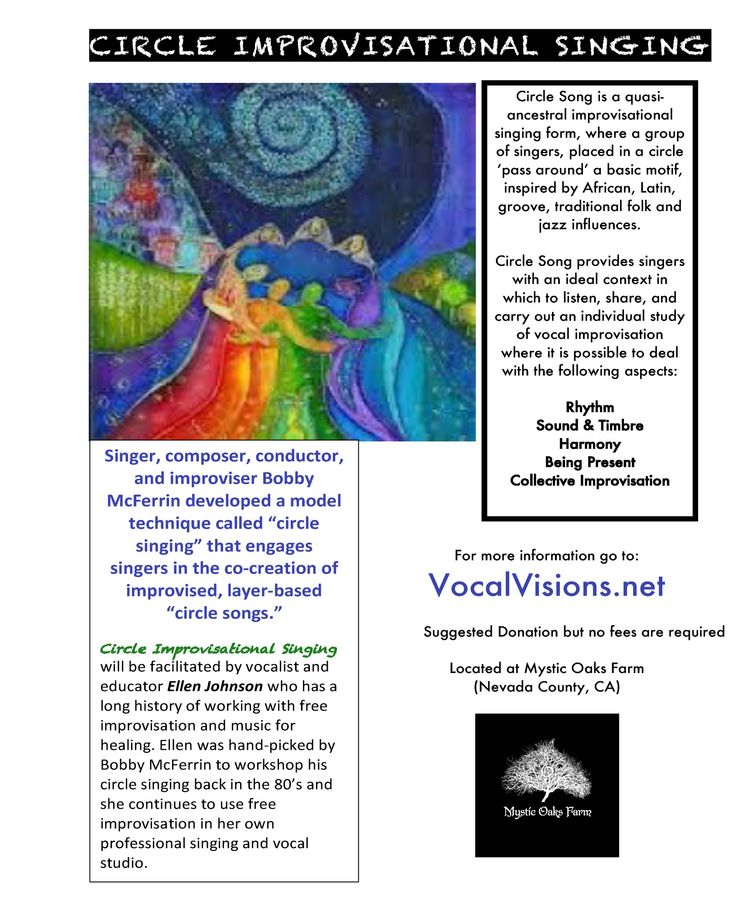 Some of the many benefits of Circle Singing:
Increases Musical Skills and Sensitivity
Builds Community
Encourages physical, mental and emotional healing
Inspires Creativity & Imagination
Develops a greater sense of LISTENING 
Great for choral groups!
High school or community choir groups can benefit from this type of singing as it explores all the fundamentals of a good singing group along with skills to increase listening, rhythmic feel, connection to the music, confidence and leadership. Often students who emerged as leaders during the circle singing weren't necessarily the same ones who typically assume leadership roles during rehearsal, suggesting that incorporating practices like these might help even more students "find their voice" in the choral classroom.
Specifically: 
SOUND 
– Timbre (or colour): exploring the wealth and variety of vocal timbres individually and within the group.  
- Acheiving a deep state of listening and immersing into sounds which provide for better blending in traditional groups
- Diving into a meditative environment using sounds  
– Exploring singing over different dynamic levels following the soloist; creating layers that compliment the soloist or multi-improvisations 
RHYTHM
 – Polyrhythmic singing: knowing how to sing a part while listening to other parts
- Encouraging a stronger sense of time, tempo and groove while keeping pace and singing different vocal parts
– Onomatopoeia, rhythmic phrasing
– Experiencing different time feels and how they relate to styles of music 
HARMONY
- Increases awareness of harmony and more complex harmonies 
- Develops the capacity to move from one harmonic thought to another while interacting with the group
IMPROVISATION 
– Confidence in finding melodies and harmonies within a specific pattern or song
– Developing collective improvisational skills
– Collaboration 
CREATIVITY
- Allows for more expression vocally and emotionally
- A greater understanding of story telling through sound, rhythm and words